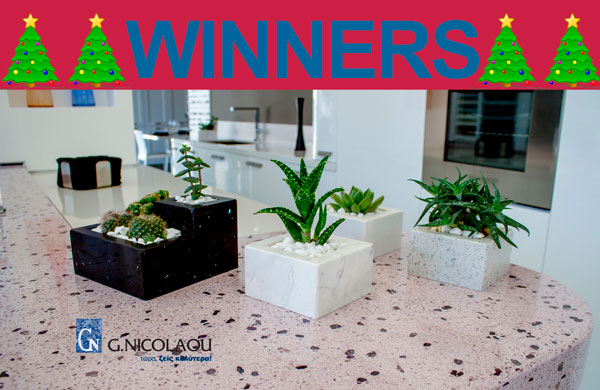 After we announce the winners below, we will explain how you can get a planter pot for yourself at the lowest prices possible!
The Winners!
Initially, we want to thank you for the amazing reviews!
Such positive reviews make us proud. More importantly, we feel empowered to continue doing what we love and have been doing for the past 30 years!
Click HERE to see all the reviews we have received.
We had a lot of participants, unfortunately we only have 4 prizes available!
Due to the christmas spirit, we dont want everyone to stay empty handed!
We decided to give away the planter pots at the lowest prices possible, with a discount of 75%! Valid until the end of the year ONLY!
When we say low prices we mean it! The discounted prices start from €12 + VAT…
For products made out of quartz and natural marble, materials hard to process and dificult to find in the market in the shape of planter pots because of their high production cost.
Look at the end of this post to see how you can get a planter pot.
To resume with the main subject of the article..!
For the unlucky ones, rest assured that we will be hosting even more giveaways in the future.
The winners of the giveaway, after a random draw in our showroom, are:
Georgia Savva

AnDriana Nikolaou

Maroula Alexandrides

Roger Solomonides
Congratulations!
The winners should contact us via Facebook, Email (info@gnicolaou.com.cy), or telephone (22 311141) to verify you are a past customer. We will need your order number or a phone number related to your order
How to buy the Planter Pots with a 75% discount:
1. Visit www.gncrafts.com (A website we created dedicated to these planter pots)
2. Find the one you like, add it to your cart, and move forward to the Checkout.
3. After initiating the Checkout, add the coupon code 75PERCENT to receive 75% discount on your order. (Valid until the end of the year, on Saturday 31/12/16)
4. Add your personal information, the shipping address, and select the payment method.
Your order will be fullfιlled with Akis Express anywhere in Cyprus.
Payment Methods:
1. Cash on Delivery
Choose this option to pay when you receive your order with Akis Express
2. Payment in our Showroom
Pay in our showroom at 205 Strovolos Avenue, Nicosia, Cyprus on weekdays between 9.00-13.00 and 15.00-18.00 o'clock. We will deduct any Shipping Fees associated with your order if you also receive your order in our showroom.
3. Payment over the Phone
Choose this option to pay over the phone. Available on weekdays between 9.00 – 13.00 and 15.00 – 18.00.
Visit www.gncrafts.com to reserve your order!
Merry Christmas!